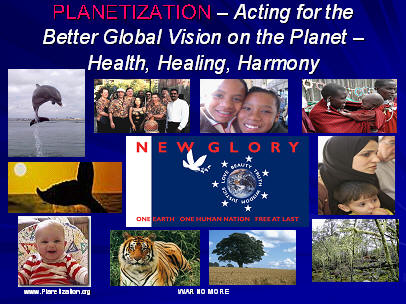 Humanity's Choice to Move to a New Pathway that Does
Not Breed Violence Nor Fear

War and Violence is Not the Way


Pierre Teilhard de Chardin Visionary Quotes


First, Keeping the Question of Humanity's Unity Open!

(1) "He that will believe only what he can fully comprehend must have
a long head or a very short creed. "

On the Tragedy of September 11:

(2) "In the final analysis, the questions of why bad things happen to good people transmutes itself into some very
different questions, no longer asking why something happened, but asking how we will respond,
what we intend to do now that it happened."

A Moral Obligation to Progress Our Human Race:

(3) "It is our duty as men and women to proceed as though the limits of our abilities
do not exist. We are collaborators in creation. "


Love is an Ethic that Helps Not Harms:

(4) "Love alone can unite living beings so as to complete and fulfil them... for it alone joins them by what
is deepest in themselves. All we need is to imagine our ability to love developing until
it embraces the totality of men and the earth."


Love is the Way to Create the World:

(5) "Love is the affinity which links and draws together the elements of the world...
Love, in fact, is the agent of universal synthesis."

A New Era is Upon Us if We Choose the Way of Love in the World,
i.e., Help One Another

(6) "Someday, after mastering the winds, the waves, the tides and gravity, we shall harness for God the energies of love,
and then, for a second time in the history of the world, man will have discovered fire."
The Way of Love is Selfless and Fulfilling:

(7) "The most satisfying thing in life is to have been able to give a large part of one's self to others."


Imagery is Energy:

(8) "The world is round so that friendship may encircle it."

Our Commonality is our Spirituality and our Spirituality is Our Humanity:

(9) "We are not human beings having a spiritual experience. We are spiritual beings having a human experience."

We Are Not Only Responsible for Ourselves, But For the Well Being of All

(10) "We are one, after all, you and I. Together we suffer, together exist, and forever will recreate each other."



Pierre Teilhard de Chardin
1881 - 1955
By Anodea Judith

Pierre Teilhard de Chardin was a visionary French Jesuit, paleontologist, biologist, and philosopher, who spent the bulk of his life trying to integrate religious experience with natural science, most specifically Christian theology with theories of evolution. In this endeavor he became absolutely enthralled with the possibilities for humankind, which he saw as heading for an exciting convergence of systems, an "Omega point" where the coalescence of consciousness will lead us to a new state of peace and planetary unity. Long before ecology was fashionable, he saw this unity he saw as being based intrinsically upon the spirit of the Earth:

"The Age of Nations is past. The task before us now, if we would not perish, is to build the Earth."

Teilhard de Chardin passed away a full ten years before James Lovelock ever proposed the "Gaia Hypothesis" which suggests that the Earth is actually a living being, a colossal biological super-system. Yet Chardin's writings clearly reflect the sense of the Earth as having its own autonomous personality, and being the prime center and director of our future -- a strange attractor, if you will -- that will be the guiding force for the synthesis of humankind.

"The phrase 'Sense of the Earth' should be understood to mean the passionate concern for our common destiny which draws the thinking part of life ever further onward. The only truly natural and real human unity is the spirit of the Earth. . . .The sense of Earth is the irresistible pressure which will come at the right moment to unite them (humankind) in a common passion.

"We have reached a crossroads in human evolution where the only road which leads forward is towards a common passion. . . To continue to place our hopes in a social order achieved by external violence would simply amount to our giving up all hope of carrying the Spirit of the Earth to its limits."

To this end, he suggested that the Earth in its evolutionary unfolding, was growing a new organ of consciousness, called the noosphere. The noosphere is analogous on a planetary level to the evolution of the cerebral cortex in humans. The noosphere is a "planetary thinking network" -- an interlinked system of consciousness and information, a global net of self-awareness, instantaneous feedback, and planetary communication. At the time of his writing, computers of any merit were the size of a city block, and the Internet was, if anything, an element of speculative science fiction. Yet this evolution is indeed coming to pass, and with a rapidity, that in Gaia time, is but a mere passage of seconds. In these precious moments, the planet is developing her cerebral cortex, and emerging into self-conscious awakening. We are indeed approaching the Omega point that Teilhard de Chardin was so excited about.

This convergence however, though it was predicted to occur through a global information network, was not a convergence of merely minds or bodies -- but of heart, a point that he made most fervently.

"It is not our heads or our bodies which we must bring together, but our hearts. . . . Humanity. . . is building its composite brain beneath our eyes. May it not be that tomorrow, through the logical and biological deepening of the movement drawing it together, it will find its heart, without which the ultimate wholeness of its power of unification can never be achieved?"

In his productive lifetime, Teilhard de Chardin wrote many books, which include the following:


LET ME EXPLAIN
THE APPEARANCE OF MAN
THE DIVINE MILIEU
THE FUTURE OF MAN
HOW I BELIEVE
HYMN OF THE UNIVERSE
LETTERS FROM A TRAVELLER
LETTERS TO LEONTINE ZANTA
THE MAKING OF A MIND
MAN'S PLACE IN NATURE
THE PHENOMENON OF MAN
SCIENCE AND CHRIST
THE VISION OF THE PAST
WRITINGS IN TIME OF WAR

BUILDING THE EARTH

Most of these quotes were taken from Building the Earth, and The Phenomenon of Man, but as I no longer have a copy, but only old notes, I can't quote exact page numbers.

http://www.gaiamind.com/Teilhard.html


War is Hell —

Why We Should Choose Another Future
in Line with the Cosmos Itself



http://www.december.com/cmc/mag/1997/mar/cunning.html

http://en.wikipedia.org/wiki/Pierre_Teilhard_de_Chardin